By Celinda Appleby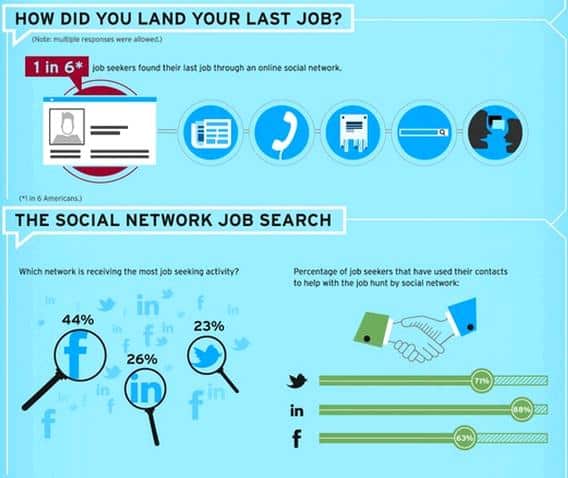 All this buzz about using social media for job seeking can be extremely daunting and even scary. Especially when you consider the original reason you joined most social sites… to connect with others outside of work.  Here are some simple tips to tackle social media for job hunting.
1)     Dynamic Profiles: Clean up the social profiles you will be using for job hunting. This means creating privacy settings and even deleting posts that you do not want your potential employer to see. Change all profile pictures to images of you in a professional light. Ensure all your profiles are aligned with the same name and images. If you are open to networking with recruiters, list your email address.
2)     Self-Promotion: Join or update your LinkedIn profile, which is considered the largest professional networking social site. Use this site to highlight your accomplishments vs. posting your standard resume. Add in your awards, videos and presentations. Create a dynamic and searchable headline; use this space to share your most marketable traits.
3)     Research: Use social media to research your target companies before you apply and/or interview. Check out their Facebook, Twitter and LinkedIn pages to learn more about the company culture. Head over to Glassdoor.com to read what employees are saying about the companies you want to work for.  Create Twitter lists that follow your target companies to see what they are talking about and sharing.
4)     Engage:  Use social media as a way to break into companies HR departments. Engage recruiters on these platforms by sharing information and posting comments that inspire people to take note.  Ask questions about company culture or just share how excited you are about things you have learned while researching.
There is no real science to using social media for job hunting, but it is important to always put your best foot forward and remember that everything on the internet is permanent. If you do not want your grandma or your future boss to see it, do not post it.  What is proven is that social media provides the job seeker with lots of information at their fingertips. No longer are the days that you go into interviews blind, since the information is available for you to learn all about culture, benefits and work/life balance. Embrace social media into your job search and use this as another tool to win over the hiring manager during your interview. Everyone loves an informed and educated job seeker. Plus you will feel at ease knowing that you did your homework!
Celinda Appleby  is the Global Staffing Digital Media Program Manager at HP. You can connect with her on LinkedIn, Twitter or Facebook.